Auto Center Mori -eco WORLD MORI-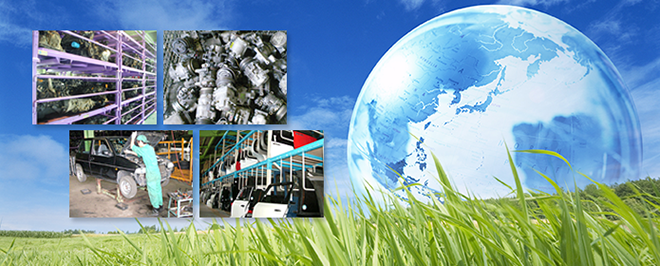 Of the used automobiles that are disposed of every day, many of these should properly be processed and reused. However, it is also true that some of these are left out in the elements or dumped in the mountains.

Further, it is a fact that those which should be reused are also being disposed of as industrial waste. With this in mind, I feel that the people of the country could join together and make sure to recycle automobiles as a way to help build a resource-recycling society and contribute to "reclaiming a beautiful planet".

In order to make our country rich in garbage into a country rich in resources, we are always working on the recycling of used automobiles.


Even after they are separated from their users for a time, used automobiles surely hold untold numbers of memories such as going on a family trip or picking up children from cram school.

Even if these automobiles become used automobiles, they leave behind memories and live on. We, as our company's mission, remove all the parts by hand and separate them into approximately 200 items such as things which can be used as domestic parts and things to be re-used overseas. The things which are left over at the end are sent back into the world as materials (resources).

At our disassembly plant, we strive to do away with the 3Ks and to be a clean factory which puts the environment first and is an easy place to work. We have acquired ISO14001 as well, and we believe our mission is to maintain a clean and habitable environment while contributing to society.


Waste issues, global warming, water and air pollution … The path of advanced progress which Japan has followed since the war has left us surrounded by the unprecedented environmental dangers that we now face.
As seen in the statement that "the 20th century was the age of heritage creation, and the 21st century is the age of the environment", in recent years environmental protection is a much-touted topic, but it is undeniable that we still face many issues.

Needless to say, we in the automobile industry also bear responsibility. The problems we have created must be resolved by our hands. To do what we can to "reclaim a beautiful planet"—that is this basis of how we see our work.